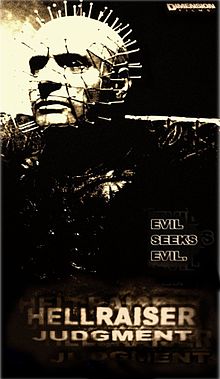 Hellraiser: Judgement is an upcoming Hellraiser film, it is the tenth instalment in the franchise, it will be released in 2017, the 30th anniversary of Hellraiser.
Detectives Sean and David Carter are on the case to find a gruesome serial killer terrorizing the city. Joining forces with Detective Christine Egerton, they dig deeper into a spiraling maze of horror that may not be of this world.
Paul T. Taylor as Pinhead
Heather Langenkamp as Landlady
Directed by Gary Tunnincliffe
TBA
Gary Tunnincliffe wanted Doug Bradley to reprise the role as Pinhead, but he turned it down due to Dimension films refusing him to look at the films script.
One of the cenobites is called The Surgeon, but there is already a cenobites by that name, Surgeon, who was featured in Hellraiser: Hellseeker.
The film will release on Hellraiser's 30th Anniversary.
This is the first Hellraiser film to not feature a female cenobite.
Heather Langenkamp is best known for playing Nancy Thompson in A Nightmare on Elm Street, A Nightmare on Elm Street 3: Dream Warriors, and herself in Wes Craven's New Nightmare.
Ad blocker interference detected!
Wikia is a free-to-use site that makes money from advertising. We have a modified experience for viewers using ad blockers

Wikia is not accessible if you've made further modifications. Remove the custom ad blocker rule(s) and the page will load as expected.